Meet Allover Academy
Time to heal... Spreading the Allover Solution...
One service at a time.
Allover Academy - Education/Training Overview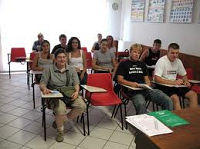 Allover Academy teaches individuals, middle and high school students computer programming skills.We provide an overview of the technical framework of computer science, our Program prepares students for the tech world, and conflict resolution skills. Whether you are a current high school student interested in computer science or someone with a general interest in the program, we encourage you to join our Computer Programming Program!
We offer Maryland MVA Driver Improvement Program and issue you a certificate after a successful completion of the program and transmit your electronic certificate directly to the Maryland MVA and We also offer 3-Hours Safe and Sober Education Program / 3-Hours Alcohol and Drug Education Program and issue MVA completion certificate and DWI, DUI Alcohol Education Program.
We offer CDC-recognized lifestyle change T2 Diabetes Prevention Program
To be eligible for CDC-recognized lifestyle change program with us, you must meet the following requirements:
Be at least 18 years old and
Be overweight (body mass index ≥24; ≥22 if Asian) and
Have no previous diagnosis of type 1 or type 2 diabetes and
Have a blood test result in the prediabetes range within the past year:

Hemoglobin A1C: 5.7%–6.4% or
Fasting plasma glucose: 100–125 mg/dL or
Two-hour plasma glucose (after a 75 gm glucose load): 140–199 mg/dL or

To take part in any of our Educational Services, please click here to register.
For more information about any of our services please call us at 443-759-8827 or send us an email at info@alloverhealthcaregroup.com